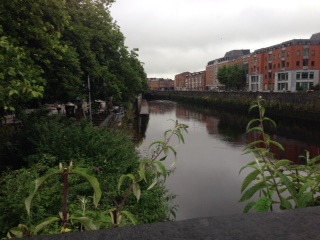 Its been a while since I've done one of these -I'll try to be more regular.
It was quite a misty moisty morning in Limerick. Warm and muggy with intermittent heavy drizzle showers-  typical July (even if we wish it wasn't). It was a slow day in the market. Lots of American and German tourists came through but many of the regular customers seemed to be holidaying. The Pride Parade was happening yesterday in Limerick and lots of our regulars were also busy preparing for the parade.
This is what I learned from people this week.
One of my customers took pity on Athene when she heard that she'd had to top and tail twenty pounds of gooseberries last week so she gave her this tip-Freeze your gooseberries without topping and tailing them and then when they are frozen, rub them between two cloths and then pop the fruit into a basin of water and the blossoms and stems float to the top to be poured off. Genius- why didn't I know that before?. Athene is happy – she'll never have to top and tail again.
I chatted to a couple from British Columbia who's daughters live in the Okanagan Valley in BC. Farmers grow peaches, cherries, apricots and are rapidly expanding their vinyards there. They are able to grow such tender plants because the temperature seldom goes below freezing in Winter. That's a better growing climate than we have!. Well that's certainly not the picture that I have in my head of Canada – I see snowy forestedness or endless farmland and I'm sure I'm not the only one. I guess I need to improve my geographical knowledge.
We have ginger mint growing in our poly-tunnel. It's much less vigorous than regular mints- if fact I've had it disappear twice on me, thats why I have it in the polytunnel where its protected from the elements. I got it from a lady called Madge who sold plants and bric a brac for years in the market. The money she made from the stall was sent to her son who was a missionary in Africa. She had the most amazing garden and often brought in old fashioned, rare and interesting plants ( I also have a lot of her bric a brac on my shelves- I'm waiting for Antiques Roadshow to tell me its worth a fortune). Anyway I potted some plants up and have them for sale on the stall. Last week a Belgian customer told me that they call in "Eel Herb " in Belgium  as that's what they eat with their jellied eel – he didnt know it was called ginger mint.  Thats so interesting – I love finding out the names of plants in other countries and what they are used for. I think I like the name ginger mint better though.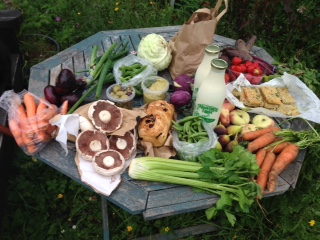 So this is what I brought home from the market this week.
Lots of veg and fruit. The mushrooms were picked on Friday night – so were as fresh as can be and boy did they taste like it, so much better than "supermarket bought, been sitting around for days 'shrooms". They came from the stall next to me – Tipperary Mushrooms. I fried them in butter for dinner straight after the market- they tasted as good as any just picked from the field. The rest of my veg came from Steve- the organic grower from Meelick Bay Nurseries. The beets will become fermented Beet Kvass – a great healthy, reputedly blood cleansing, liver supporting drink. I bought washed and non washed carrots- the non washed will keep longer. The carrots will be used in coleslaw, as carrot sticks  and in spring rolls. I also bought sugar snap peas for making pod pesto and  regular peas which I added to the spring rolls.The celery will become snackage with peanut butter. The cabbage and red onions  will also be used in the colelaw.  The kohl rabi  will get steamed/fried in water and butter in a covered frying pan. That's the best way we've found to retain the flavour (I love it so much I may eat them both and not share).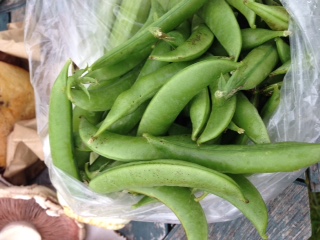 I love the doughnut peaches from the Quinns stall. I prefer them to regular peaches – they are a bit easier to eat and you don't drip juice all down your chin. I also got the strawberries and figs from the Quinns. I would have grilled the figs with some crumbley goat cheese but I munched them all as soon as I took the picture. Maybe I can restrain myself next week.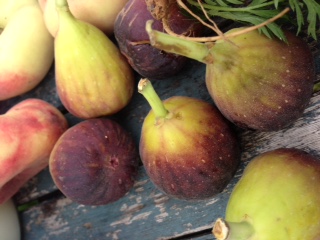 I picked up an organic Olive and Rosemary bread from Vi at the Sunflower Bakery. I couldn't decide between the olive/rosemary or the cheese/onion  bread, they are equally delicious- Vi had to choose for me. I love her Rye Sourdough too.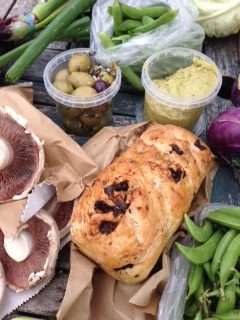 The tub of olives and the hummus came from The Real Olive Company. This weeks hummus is a pesto one which is deliciously different.
Mimi from Crawfords Farm delivered our regular 2 litres of Raw Milk. I do love their milk- Athene makes yougurt with it every Sunday night. Breakfasts and smoothiness for the week.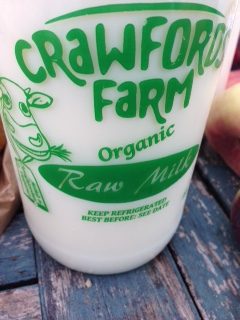 The last thing we came home with were Quinoa Melts from Aileen at the Felafel stall. She mixes quinoa and cheese and veg and bakes them into  slices of gluten free carbo/cheesey yumminess.
I have no tea because I forgot to pick it up (I'm getting the tealess jitters already) and no fish because the weather was too warm to have fish sitting behind my stall – (last week I had the fishmonger keep my fish in their van on ice to hand over at the end of the market, but they forgot and my lovely mackeral ended up in Cork and I ended up eating olive tapenade on toast for dinner ).
Tonight we made Korean Spring Rolls with rice paper skins. We just stuffed them with julienned carrots, courgette and fresh peas. They were so good.