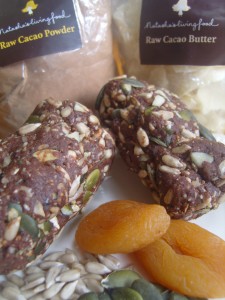 Over the last couple of months I've sampled a lot of energy/breakfast  bars. Not for good blogging research purposes I'm sad to say. Its because I keep forgetting to eat or am just not ready to eat before I rush off for a meeting or class. I end up grabbing a coffee and  bar in some service station on the way(not the best breakfast choice)
Yuk! Most of them taste like artificial garbage or the fake healthy ones taste of raw porridge slathered in suga. I do however like those Belvita breakfast biscuits ( they taste a bit like Liga) however its just wrong to have biccys for brekkie no matter what the ad says. And really how nutritious are they?.
I also want some sort of bar I can shove at the children, who once again have taken over an hour to put on their school uniform and thus need to eat in the car or else thats another late slip.
So what do I want in a bar.
They need to be tasty-early morning taste buds dont want to eat worthy tasting food.
They need to be nutritious – not empty calories
They need to be energising -my brain needs to be working at its optimum after eating it.
They need to last without refridgeration for a few months (so they can live in the glove compartment). A lot of the recipes for breakfast bars seem to require refridgeration-I'll never remember to and take it out of the fridge put it in the car.
They need to be realatively inexpensive to make .
They need to be able to be made from whatever is readily available.
I met Natasha from Natashas Living Foods last year at the Clare Slow Food Festival and picked up a bunch of her raw products, cacao,cacoa nibs, and cacao butter meaning to make bars similar to her excellent energy bars.Everytime I open the cupboard I see them there reproaching me for my slothfulness. So today was the day they finally got used and the resulting bars were delicious. They taste like a  nutty, rich, chocolate  truffle.
I used the cacao as a base because really who doesn't want chocolate as a base for their breakfast. Especially as its guilt free because its raw. I added lots of dried fruit and seeds to the  chocolate base. I picked apricots, figs and prunes because I like them and I feel they give the rich layers of flavour I was looking for, but you could substitute your own favoured  dried fruits like pineapple, apple or banana and maybe add some coconut. Similarily with the seed , I like sunflower and pumpkin seed so I added them. Think carefully what seeds you add – for instance, I dont know if sesame seeds are a breakfast taste for many people.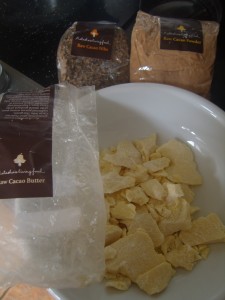 Raw Energy Bars
Makes 12 bars.  Time 15 mins making, 1 hour setting.
100g  dried prunes (pitted)
100g dried apricots
100g dried figs
100g raw cacao butter
100g raw cacao powder
2 tablespoons  Agave syrup
200g sunflower seeds
100g pumpkin seeds.
In a food processor, whizz the prunes apricots and figs  together until  smooth ish-about 2 mins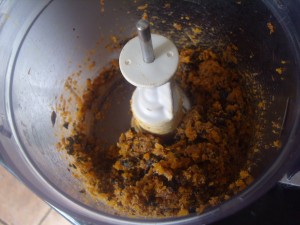 Add the cacao butter and powder and whizz again -the mix will start to look like brown breadcrumbs, (2mins) then add the agave syrup and whizz untill  everything looks reasonably well blended- approx another 2 mins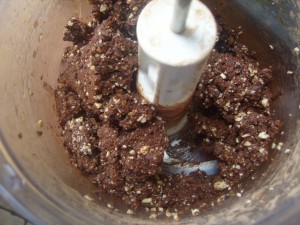 Add the seeds and whizz on low power to try to incorporate the seeds. This may not work very well so if it doesn't just dump everything into a bowl and mix by hand .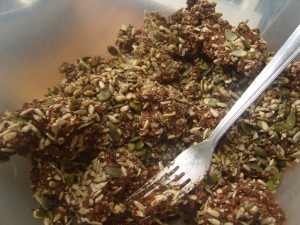 You are now left with a very thick mix . Divide into 12 portions and  shape – I shaped them into croquettes  because that seemed easiest. Leave to sit on a plate for about an hour then wrap individual  bars in clingfilm or parchment paper.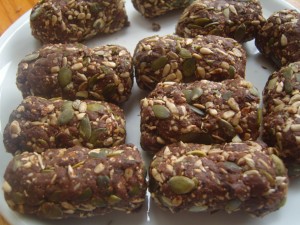 Store in an airtight container and these should last a few months . Well they should ,but wont cos they are deeeelicious!
Substitute  normal cocoa powder  if you dont have raw cacao and coconut oil for the cacao butter. Try adding  raw porridge oats to the mix for added carbohydrate.