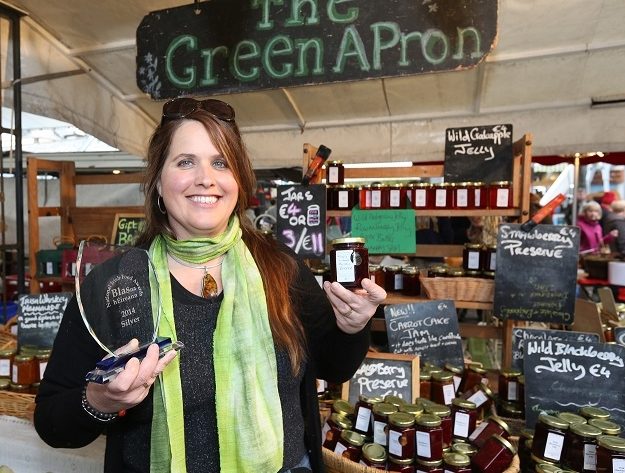 The Green Apron is a small Artisan Preserve company run by Theresa Storey (with the assistance of her family.) Our small farm is situated in Derryclough , Ballingarry, County Limerick ( overlooking Knockfierna, the famous fairy hill.).
We make a fabulous range of award-winning jams, marmalades, chutneys, ketchups, sauces, herb mixes, butters, mustards and pickles using secret family recipes. We have been producing and selling our products for over 40 years at the Milk Market  in Limerick City. Find us there every Saturday morning.
Our preserves are made in our farmhouse kitchen. The preserves are made in small batches from home grown, foraged, organic and locally sourced produce wherever possible and are made using traditional methods. No artificial preservatives, colours or setting agents are used.
Our preserves have won us 7 international Great Taste Awards and 15 Blas Na hEireann Awards and we are listed in the McKennas Guide and in Georgina Campbells Guide.

The rest of The Green Apron team consists of  Theresa's husband Dr Mike Cosgrave (UCC) and their three children -Alex, Bella and Athene, who all assist in the gardening, producing and selling. ( also the tasting and jampot licking)

The kids are showing the advantages of growing up in a foodie household. Alex( 24) is a National Winner in the Rotary Club Young Chef of the year 2011 and went on to represent Ireland in the International Rotary Young Chef of The Year . Bella (21)won her first award for cooking when eight and is working on her food blog . Athene (18) won the title of  RTE's Young chef of the Year 2011 on "Pans on Fire"(back when she was 10) (Its good to come to dinner at our house).

Much of our fruit and vegetables are organically grown by us at our award winning gardens and orchards at Derryclough and in the walled vegetable garden of Theresa's parents 18th century castle at Glenwilliam, Ballingarry. We also source fruit and vegetables from small local producers.
We also take advantage of the wild fruit available in the local hedgerows to create a variety of wild jellys. These include wild crabapple jelly, damson jelly, bramble jelly, hawthorn jelly, rowanberry jelly, elderberry jelly and rosehip jelly.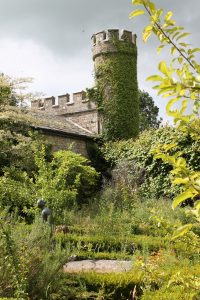 Theresa's mother, Barbara, started making preserves in the late 1970s from the produce from the family vegetable garden and orchard and sold them in the Milk Market in Limerick and in local shops. Whilst we kids complained about the constant gardening and the markets every Saturday, they instilled in us a love of fine food. Theresa, who is an environmental scientist and Botanist, took over the family business in the 1990's and expanded it. There is along standing tradition in the family of preserving the harvest for later as Barbara grew up in Michigan where there is still a tradition of preserving the harvest through canning and bottling.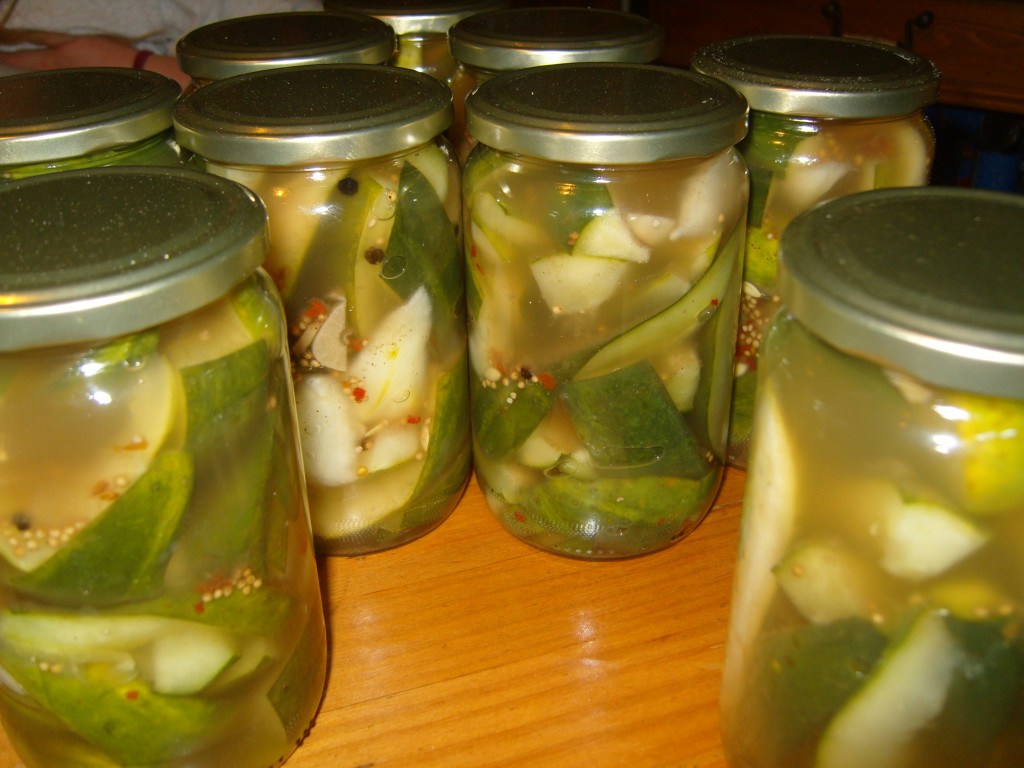 Theresa is heavily involved in community work including her local and regional ICA where she is Vice President of the Ballingarry Guild and an officer in the Limerick Federation. She also contributed to the ICA Book of Home and Family.

 The Green Apron also runs courses and workshops and lectures on Sustainable Living and all aspects of kitchen gardening from producing to preserving and beekeping, chicken rearing etc (see course list). We practice what we preach – The Green Apron has won prizes in the Limerick County Council Environment achievment awards including Best Wildlife Garden in the county, we came second in Most Environmentally Friendly Household and we are the  model composting family on the Limerick County Council Website. Alex was also the Green Party Candidate for Limerick County in GE16.

Our preserves are available in Limerick Milk Market saturday mornings and in local shops in Limerick.

Contact us at theresa at thegreenapron.ie
The Green Apron, Derryclough, Ballingarry, Limerick 087 9808853

Theresa has a degree in Botany and post-graduate qualifications in Environmental Science and Applied Science and has just written her first cookbook "Fruit on the Table" showcasing her use of fruit through the year from fabulous preserves to luscious pies. It is now available in all good book shops.