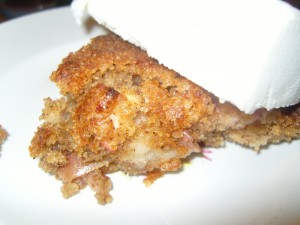 This is the cake we take when visiting as  everyone seems to love it. Its so cinnamony, appley and yummy.  This is another one of the cakes Mom used to sell at the market. It takes very little time to make and it uses up those eating apples sitting at the bottom of the fruit bowl getting wrinkled.
Apple Pie Cake
1/2 cup butter (4oz)
1 egg slightly beaten
3/4 cup sugar
1 cup flour
1tsp baking powder
1tsp ground cinnamon
1/2 tsp salt
1/2 tsp ground nutmeg
1/4 tsp ground cloves
1/8tsp vanilla
2 cups chopped apple (eating apples)

1/2 cup chopped pecans or walnuts(optional)
Grease a 9 inch pie pan
Melt butter , remove from heat and add sugar and egg. Mix in  rest of ingredients.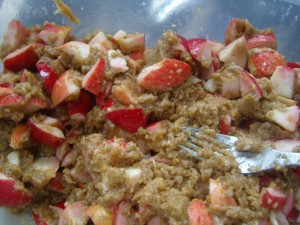 Spread into pan.Bake at 160C for 35-40 mins. serve warm with icecream or whipped cream.
You can peel the apples if you like but I usually leave the peel on . It doesnt affect the pie and adds that tiny bit of roughage.( its kind of pretend healthy)

I made it for our local ICA ladies and they loved it and  you can bet the ICA are hard to impress as they are all excellent bakers.