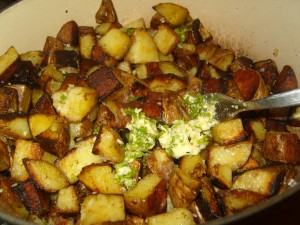 We were having a  heated discussion on Facebook with a canadian friend over the culinary merits of Putine ( which is basically chips covered in gravy and cheese, surprisingly yum). In defence he put up a link to the wiki page on putine and there I discovered a new ( to us ) culinary joy : Persillade.
Persillade is a mix of parsley and garlic which is added to dishes, whilst being cooked for a mild flavour ,or at the end for a herby, garlicy oomph.  Its a French thing as you might have guessed and widely used in french derived cuisines.
Actually to be honest I've never really cared for parsley, a bit to school dinner garnish for me. I grow it, as parsley is the only abundant herb available during the spring and winter in our temperate climate, but didnt  love it the way I love my oregano or basil.
That has now changed thanks to persillade. When I saw the recipe I thought Id give it a go as there was still a bit of parsley in the garden after the winter and Oh My God Im so glad I  did. So simple and yet such a wonderful addition.
I made Pommes Persillade. which is basically fried potato with persillade mixed through it after its cooked.
This is the rough recipe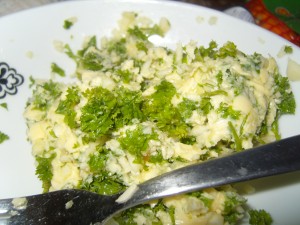 Pommes Persillade

about a handful of chopped parsley ( I used curly)

equal amount of garlic

about 2 tablespoons of butter
About 2lb potatoes cubed then fried in oil
Salt and pepper to taste

mix the parsley ,garlic and butter together and then mix through the cooked potatos. Done!
According to our french wwoofer Anne, its great added to casseroles , frogs legs, snails and mussels.
You can use oil or butter to bind the herbs and garlic and apparently replace the parsley with other herbs such as oregano or marjoram.
Im now planning  out the  huge bed of parsley I  need  to put in  keep me  in enough persillade for the year.Yippee!