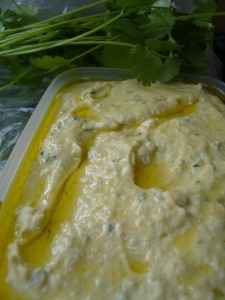 Sometimes I get cravings for gorgeous rich garlicky hummus.The only problem is I never remember to restock on chickpeas and tahini ( hummus's main constituents) and living out here in the boonies means I can't just nip down to the local shop and pick some up.
Today is one of those days. No chickpeas and no tahini.What the shop did have was sesame seeds and I have chana dal in the cupboard. Chana dal is small split chickpeas Its readily available and you can get it in large bags from ethnic stores (we use it for felafels). You only need to let them soak for a few hours and they cook in under an hour. The consistency of hummus made from them is slightly softer than when using whole chickpeas  but its still good.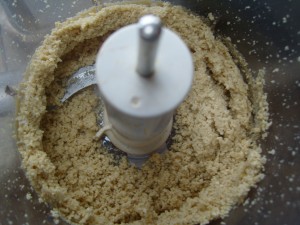 Tahini
So I figured I'd make my own tahini in the food processor from the sesame seeds.
I whizzed up about a cup of seeds with a tablespoon ofoilive oil and a 1/2 teaspoon of coarse sea salt. This took a few minutes and  wasnt completely smooth but I figured that wouldnt matter.
Hummus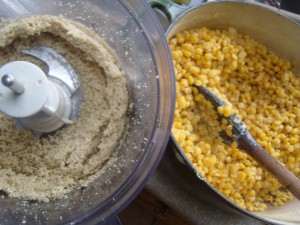 to this I added
about 3 cups of cooked chickpeas
2 lg garlic cloves
juice of 1 lemon
3 T of olive oil
a big big handful of coriander leaves
1T cumin seed
add cold water if the hummus is too thick and adjust the salt ,olive oil, and lemon to taste as every one has their own idea of how hummus should be. (Alex went to a Lebanese restaurant last year with his aunts and since then has been overly critical about my hummus. )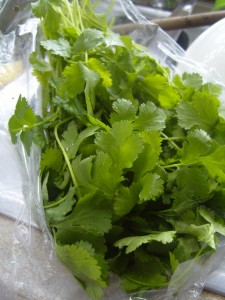 You can leave out the coriander and cumin, add basil or pesto, roast some red or yellow peppers and add those (very yum) or try adding chilis.You can also replace the chickpeas with butter beans if you are really stuck. Just play with it.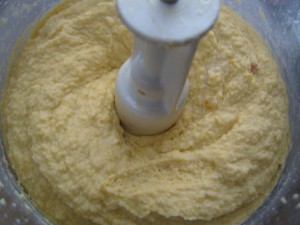 Once  you've whizzed it all up put it in a bowl and drizzle it with olive oil. Serve with pittas or salad ,use as a dip for veg or chips.whatever.
Hummus freezes well so we make lots and freeze batches for later.