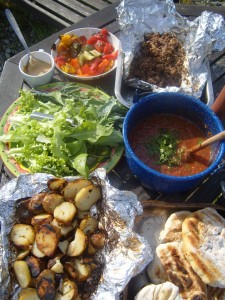 Now that the weather has started to warm up thoughts turn to barbeque.
I'm not a big fan of  the under or overcooked meat  you get at a barbeque and I've found that once you are feeding more than eight people quality control goes out the window . Gotta love those crunchy sausages and that samonella chicken.
Traditional barbequing also means somebody needs to stand at the barbi for hours instead of relaxing .
Our new outside summer meal has an eastern theme . Most of the food can be prepared earlier and it takes very little time to finish off (it looks very complicated though) . A well stocked garden will also provide most of the vegetables for this so you get kudos  for that too.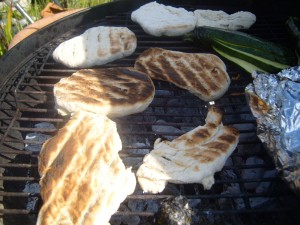 Alternative Barbeque fixin's

Flatbreads /Pitta/Naan
We make flatbreads using our basic bread recipe and we cook them on the barbeque. It looks so good and they taste fabulous. Use whatever pizza/bread dough recipe you have and make breads  brush them with oil and grill. Or buy some naan bread or pittas and toast them on the barbeque

Mixed salad greens
we use  a mix of normal lettuce an more sharp greens like mustard and mizuna

salsa
felafels
kebabs/ chicken / spicy beef
Here we marinade lamb  or chicken in a spicy yougurt mix ( yougurt and chili and cumin) and cook them on the barbi. Use whatever spices or sauce you like  .  For the spicy beef we fry ground beef with equal amounts of onions a touch of chili and cumin and then finish cooking  it on a tray ( or doubled tinfoil)on the barbeque grill.
hummus
coriander pesto
here we whizz up 2 handfulls of fresh coriander with a few tablespoons of olive oil, juice of a lemon ,salt and pepper and enough wter to make it into a drizzle, gorgeously fresh tasting.

yougurt
There to mute the spices down, have a bowlful for the less spiceloving

roast courgette/ zucchini strips  and roast pepper strips

cooked on the barbi and brushed with olive oil then sprinkled with rough sea salt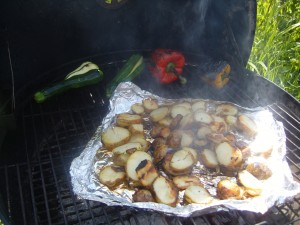 some sort of chili sauce eg. Nando's peri peri or your own special recipe which you can leave on its own or mix a bit with some yougurt as another sauce.

For carbohydrate we have couscous with a squeeze of lemon and a drizzle of olive oil , baked potatos and/or fried potato slices with a sprinkle of spices.
For last years summer party here we fed 40 people with minimum effort this way.