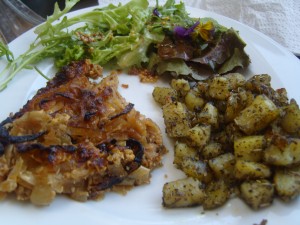 Onion Tart
I love this onion tart .We spent some time last summer playing with the recipe and we think we now have a great, simple, fairly fast and very tasty recipe. Even picky kids eat it.You can also substitute other veg such as spinach, courgette or mushrooms for the onion .Still fantastic
Our  youngest Athene made an onion tart as her audition dish for RTE's new "Pans on Fire "  kids cooking show and it got her a place in the show so its gotta be good.
Onion tart
ingredients
3 medium sized onions sliced
1 tablespoon  olive oil
2  very heaped tablespoons grated  Cheese
1 free range egg and an equal amount of milk beaten together
Salt and pepper to taste
Pastry for one 9 in tart crust
sprinkle of fresh Thyme leaves
Line a 9 inch pie or tart pan with the pastry and bake at 180 deg for 10 mins until slightly golden. Remove from the oven and leave to side
While the pastry is baking cook up the onions in the olive oil on a medium heat, stirring occasionally, until soft and dark golden brown. This takes 10 to 15 mins.
Sprinkle 1 tablespoon of the cheese across the bottom of the pastry case . Then spread the onions across the top of this, sprinkle with salt and pepper and then carefully pour the egg and milk mixture across the onion The milk mix  won't cover the onion completely but its not supposed to as its just there to bind the ingredients together.
Sprinkle the remaining grated cheese across the top.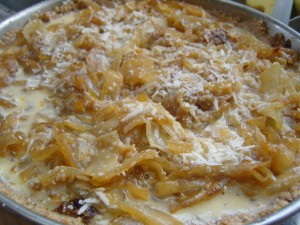 Bake at 180 deg for about 20 mins until the egg has set. Remve from oven Sprinkle with thyme leaves whilst still warm .
Serve warm or cool but not refrigerator cold
Note . If using new green onions only fry up the white part and add the finely chopped greens just before baking.
Optional twists
Add a few sprigs of chopped thyme to the egg and milk mix.
Toast some pine nuts and sprinkle these across the top before baking
Lay slices of St Tola's goat cheese across the top of the tart before baking.
Spread pesto across the base of the case before filling.