We took a weekend off from the market in Limerick for a  family wedding in Galway and ended up going to the market in Galway saturday morning. Busmans holiday I guess.
I love Galway market  but we only manage to get to it once a year or so when we are playing hookey from Limerick.
The stalls crammed down one tiny street make it seem so much more vibrant than most markets. There is also such a variety of crafts there ( I bought fabulous handmade socks ,which the sockmonster has now stolen) ,as well as the ususal food stalls available at most markets . Olives ,organic vegetables, breads and cheeses. But Galway always seems to have more exciting foods than other markets. (We have a standing order anytime we are there to pick up smoked eels for my Dad.)
We ate our way around the market with fresh pretzels, hot donuts dusted with cinnamon and cocoa ,Boorwurst sausages and felafels. No smoked eels there that week.
The felafels were fantastic .There was a van there with two  guys cooking felafels .They came with a range of sauces and salads,including a wonderful coriander salsa. After eating donuts and pretzels ,I could only manage a small felafel pita, but it was fantastic.The only time I had made felafels they disintegrated all over my deep fat fryer and were thrown out so it was a joyous new taste sensation.
We met the rest of the wedding party at The Quays pub for coffee and beer then I dragged them back to the market  for more felafels. I had a whole felafel pita this time  .The others  were suitably impressed even my committed carnivore son . If you go to Galway market you need to try these.
This has now started a quest to make the perfect felafel at home. My sister Barbara shallow fries hers to keep them together so we decided to try it that way.
We've just made  a felafel mix from Tesco . The felafels tasted good but the mix does not make enough for 5 people and the felafels were a bit soft. We are going to try some of the recipes off the net using uncooked chickpeas later this week.
We think however that we've found the perfect salsa recipe.Simple to make with readily available ingredients.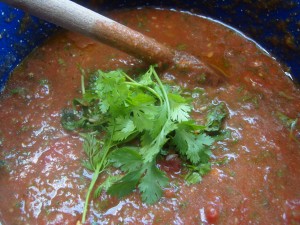 Simple Salsa
1 can tomatos
1 onion
1 yellow or red pepper
1small red chili
1 good handful of fresh coriander
juice of one lemon
3cloves of garlic
salt and pepper to taste
chop everything finely or whizz everything up  together . Leave it a bit chunky.
Done
How easy was that. If you want  it to be a bit more exciting you could substitute lime juice for lemon and add about a half tespoon of cumin.If you dont have fresh coriander use  parsley or just leave it out .It will still be good.
This is great on felafels but also with mexican food, as a dip and good for barbeques