Yesterday at 4.30 the kids reminded me that they needed to be at the cubscout barbeque at 6. Having forgotten to tell the Scoutleader we were coming I needed to bring something to eke out the food there .Especially since we were bring the Bottomless Pit with us ( the 14 yearold boy). It needed to be fast and use only what was in the house.
We decided on Lemon and Coconut Cakes. This is one of our Secret Family Recipes. Mom used to make these for the Market every week and everyone loved them (even my coconut hating husband) . This is a great recipe as they are fast, simple , not too fancy ,but not plain. They freeze well and hold for about 10 days in an airtight container.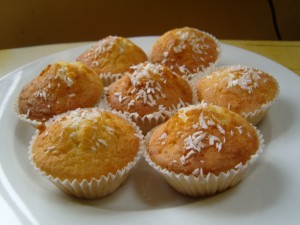 Lemon and Coconut Cakes
juice and rind of one Lemon
180z selfraising flour( or plain and 3tsp baking powder)
12oz margarine
12oz  sugar
6 eggs
71/2 oz milk
6oz coconut
180 degrees

place lemon rind,flour,baking powder,margarine,sugar,eggs and milk in bowland beat for 2 minutes until glossy. Fold in coconut. Put in greaseproof lined cake pans.
This will make about 4 dozen small cakes or three loaf tin size cakes.You can also put it in a tube pan or any other shape you've got.
Small cakes take 12-15 minutes  . Large cakes take about 50 mins
cook untill a dark golden color. Let cool.

Mix 3T  granulated sugar with the lemon juice and drizzle this over the cakes. Then sprinkle them with a bit of coconut. Yum!
If you are feeling a bit more fancy ,use icing sugar with the lemon juice and omit the coconut for a lemon drizzle icing. Or you can frost the cakes with a lemon butter frosting.(dont frost them if you are going to freeze them)
P.S They went down a treat with both the scouts and the parents.