Its summer jam time so I'm gonna start it off with one of my favorites Rhubarb and Ginger Jam
My Neighbour Matt kindly allowed me to raid his  rhubarb patch today. Mine is still a bit young as the stools only went in last year . If you dont have a rhubarb patch ask around as many older gardens have a rhubarb jungle in the corner and people are happy to share.
We took a few stalks from each plant and ended up with over 20 lb of rhubarb . Yum! lots of Jam and some crumble.
Rhubarb and Ginger Jam
6lb rhubarb cut into 1inch slices
1 1/2 pt water
4 lemons
6 lb sugar
1inch root ginger
1tsp ground ginger
Put the rhubarb and the water in a pot . Squeeze the lemons add the juice and the emply lemon shells and the root ginger and cook until the rhubarb has gone to pulp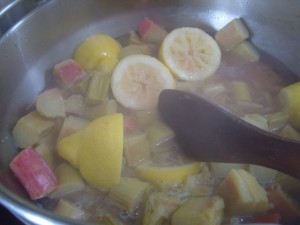 remove the lemon shells.
Add the sugar  and the powdered ginger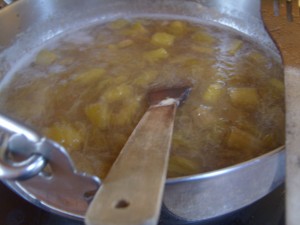 cook the jam up until a blob of jam placed on a saucer wrinkles when pushed with a finger ( check the taste and add more powdered ginger if you like a more gingerry jam).(watch out rhubarb jam  splats everywhere, all over the stove and you) 
Pot up and lid.
You can leave out the ginger or relace the ginger root with powdered ginger. Another great variation is to add coriander powder or seeds instead of ginger.
sterilize jars by washing them in hot soapy water. Rinse then place on a newspaper covered baking tray . Put the tray of  jars in the oven at 130 degrees for about 10 -15 mins.
If you are using solid metal lids rinse them then pour boiling water over them.dry them on a teatowel or paper towelling.
Heres a usefull tip I learned from another jam maker . After you lid the jars, flip them over for a second so the hot jam sterilizes the lid .