There are a lot of pictures in this post and more on this page.
To see the gardens you can go to www.rhs.org.uk but I wanted to share the stuff I loved .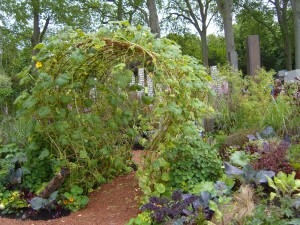 We've watched the Chelsea Flower Show  on The BBC for years and  I've always wanted to go but just couldn't  organise myself.
So this year when my friend Aine called to say her husband refused to go and would I, I jumped at the chance.  She organised everything so it was easy.
We went on the Tuesday as Aine is a member of the RHS . It was already fairly full by the time we got there shortly after 8 and there were BBC crews everywhere.
RHS have a cloakroom facility where you can dump you stuff and keep coming back during the day to put more stuff in. This is a fantastic idea.
You can't buy plants at the show but there are so many stalls selling tools, gloves, art and anything garden related. Also the nurseries with show stands mostly all sell their own seeds. I wanted to buy everything but apart from my wallet there were Ryanair handluggage allowances to be considered(next time I'll be taking a bag) .
There were also many large stands selling conservatories, summerhouses, sculptures etc. Fantastic stuff.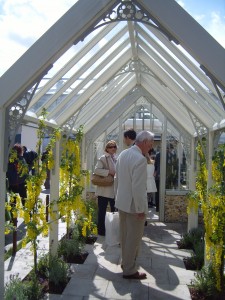 The Show Gardens were great  and gave me lots of ideas for redesigning mine( the family all groaned when they heard that)   To me  the best were James May's Plastacine garden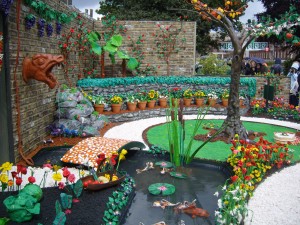 and the Cayman Islands Reef Garden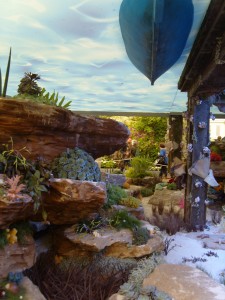 .
Actually you got a much better look at the gardens when you watched them on TV as you had to stand well back from them at the show.
We took a break from garden watching to have a Pimm's ,so English ,then returned to the fray. We left at 4.30  body broken and mind full.We still hadn't seen quite everything and hadn't a chance to sit by the Bandstand, relax and listen to the music. Next time I'm going to go for an extra half day I think, just to absorb everything.
My show highlights were seeing Alan Titchmarsh in the flesh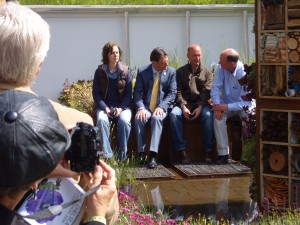 Talking to James May at his Marla garden
Having one of the BBC  film crew praise my phography.(How cool is that)
For those of you thinking of going, here are some tips
Wear your most comfortable shoes.You are going to be on your feet forever.
Wear light clothes and carry as little as possible. Its  most likely going to be warm if not hot.
Unless Monsoon type rain is forecast only bring a wee brolly . An anorak will weigh you down and be too hot.
Go to the courtyard gardens as soon as you can because they are so popular you won't get near them later in the day.