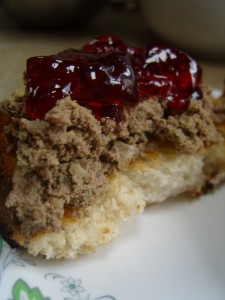 I'm feeling kind of smug here as I've already got some of my christmas cooking done . Two big tubs of chicken liver pate ( now in the freezer).
On Saturday I passed the only butcher in Limerick which has chicken livers so I figured I'd pick some up and get the pate making out of the way. I seem to end up every Christmas Eve morning trying to fit in making pate and making a gazillion cookies . We always have pate at Christmas as part of our Christmas Eve scandinavian feast.
Pate is a lot simpler to make than most people think and this is very straightforward and quick recipe.  It tastes fantastic . Its one of our celebration recipes. Anytime we are pulling out all the stops the pate gets made

Chicken Liver Pate
1lb Chicken livers
1lb onions
2oz butter
shot of brandy or whiskey(optional)
Salt and pepper to taste
few fresh sage leaves(optional)
Fry up the onions with the liver in the butter  untill the liver is cooked so well that you cant see any pinkness left (about 45 min)

Throw it into a food processor and  whizz it untill smooth, add salt and pepper to taste. add the booze and sage or if not using booze add some water.You want the pate to be a thick pouring consistancy.(porridgey)

Pour into a bowl  or dish, melt a few tablespoons of butter and pour it over the top to seal the pate.
Keep refridgerated and eat within the week.
This  recipe makes two bowls full . We always double or triple the recipe as it freezes well and should be fine for about 6 month in there.
We serve it on toast or biscuits with a bit of sweet jelly. (Damson jelly in the picture)