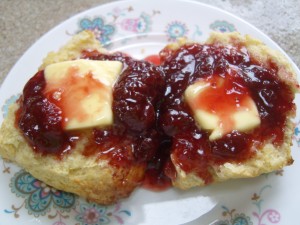 I spent the day making  both raspberry  and strawberry preserve for saturdays market. The smell of strawberry preserve filling the house  made me reach for a bowl to whip up a batch of scones to carry that gorgeous preserve.
I decided today to make lemon to compliment the fresh strawberry preserve. The basic scone recipe ( without the lemon) is our  family  recipe which won us many an award in cookery competitions when we were kids. Fast and simple ,but delicious.
Lemon Scones
1lb flour
2 tsp baking powder
1/2 tsp salt
4oz butter or margarine
2 T sugar
2 eggs beaten with enough milk to make 1/2 pt of liquid
zest of one lemon

Put dry ingredients in a bowl. Rub in the butter or margarine. Mix in lemon zest. Add 4/5 of the liquid and mix well, if the mixture  is too dry add a bit more liquid or if wet add a bit of flour. Dont overhandle the dough or the scones will be tough . Either roll out or flatten the dough by hand (1inch or less) cut into shapes (we just cut it into squares as you can see) put on lightly floured baking tray .Brush with the remaining egg and milk mixture. Bake 8-10 mins at 200 degrees.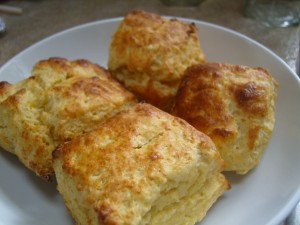 spread with butter and jam yum!
I must say we  all really like the lemon flavour in these scones it went with the strawberry perfectly.  We didnt even wait for the strawberry preserve to set .We ate it hot out of the jar slathered on the hot fresh  scones.
To make cinnamon and orange scones  add 1 tsp ground cinnamon to the above recipe ,substitute orange zest for lemon and add the juice of the orange to the mixture. We had these last week and they were so good.Nice and warming for the autumn.
For  savory scones use the  above recipe without lemon or sugar . You can leave them as is or add herbs or grated cheese. These are especially excellent with soups.
I was ably assisted in the making of these by Athene and Tess our current wwoofer.