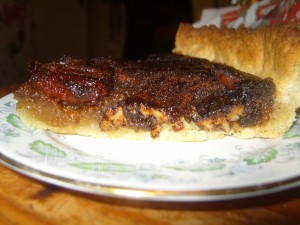 Today my house smells fantastic as it smells of baking Pecan Pies. I always make them at this time of year for Dads birthday as he adores them and they are hard to find here. I always make one for Dad and one for us as we love them too.
So I'm looking at the recipe which is incredibly easy and wondering why we dont have them all the time. It used to be that pecans were hard to find and very expensive and maybe thats why  Pecan Pie is troublesome to make in my mind. Now Pecans are readily available and reasonably priced so there is no reason to not make them as often as you like ( in my case every week if I get a chance). Like I said this is terribly easy to make and absolutely scrummy. Make a couple as they taste so good and should freeze okay.
Chocolate Pecan Pie
2oz chocolate (I use 70 %)
2oz butter
3 eggs beaten
1/2cup sugar
3/4cup golden syrup
3/4cup pecan halves
Pie crust uncooked(9 inch)

Melt  the chocolate and butter together. Add  the beaten eggs, sugar and syrup. Mix in pecan halves. Pour the mixture  into pie shell.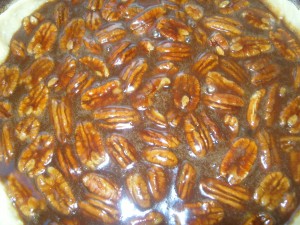 Bake at 40-45 mins until set at 180 c. Serve  the pie warm or cold with whipped cream.Cut the pieces small as its very rich , you can always have a second one.

How straightforward is that. I can't believe I never remember how simple it is. Now I must take Dad down his pie before my ravening hordes devour it.
This recipe is adapted from the recipe in "Best of the Best from New England Cookbook" published by Quail Ridge Press.