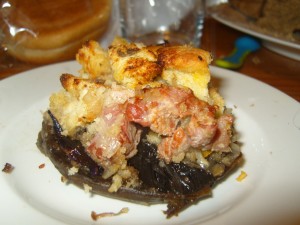 I love stuffed mushrooms and now I have access  to reasonably priced large mushrooms they have become a regular meal in our house.
They are simple and quick to make and very very yummy. You can freeze them either cooked or uncooked and reheating them from the fridge works well too. Very handy for feeding visitors and they look much more complicated  than they are so you can impress everyone with your culinary genius .
I especially love to make this when the wild mushrooms are out as their flavour is so good.
About 2 mushrooms per person is enough for normal people . Hobbits or good eaters need more like 3-4 each. This is enough for a breakfast, lunch or starter/ side dish serving.
Big Flat mushrooms are the way to go here . If you can't find them in the supermarket try your local market or the wholesaler. They should cost the same price as smaller shrooms so argue if someone tries to charge a giant mushroom premium.
I get  punnets  from the wholesaler which hold about 25-30   mushrooms and cost about 6.50 euro.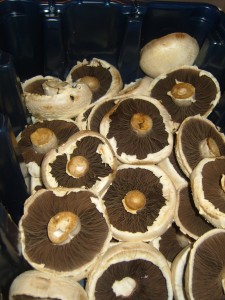 Stuffed Mushrooms
The basic recipe is to fry the mushrooms in a little olive oil or butter untill slightly soft , then stuff and bake at 200  degrees for about 10- 15 mins .You can remove the stem if you like and either discard or add to the stuffing but I usually just leave it in unless its huge.
The exciting part is the stuffing, you need about 2  tablespoons of stuffing  per shroom.
Our usual stuffing (enough for 4 mushrooms)

breadcrumbs ( see note below) from about 2 slices of bread

chopped small onion or shallot

chopped garlic (2 cloves)
Chopped mushroom stem
chopped  pepper( about 2T) red ,green or yellow

olive oil about 1T
salt and pepper
Optional :any fresh herbs you have such as parsley, rosemary, oregano, chives can be added,  chop finely and add a tsp  to the stuffing before putting into the mushrooms. Bacon pieces can also be added to the frying pan with the onions.

note:When we make stuffing we don't use fine bread crumbs. We pull bread(crusts and all) into the smallest pieces we can with our hands and use that. This means there is a great variation in size between pieces as sometimes the stuffing maker gets bored with pulling apart bread and  leaves big hunks but hey it all tastes the same.
To make the stuffing fry up the onion , pepper , mushroom and garlic in olive oil until soft, then add the bread crumbs, and fry gently for a minute or two until all the olive oil has been soaked into the bread. Add salt and pepper to taste.
Then place about 2 T of the stuffing on the cooked mushroom and then bake .You can also sprinkle some cheese on the stuffing before baking . We usually use a cheddar but try different ones.
Bake it for 10 mins then check to see if it needs any more time. The mushroom should be soft with its gorgeous juices oozing out into the baking dish. (With the wild mushrooms the juice is an inky black and fantastic).
We experiment a bit with stuffings and have made some great mushrooms stuffed with pesto, sundried tomatos and pine nuts. Goats cheese, balsamic vinegar and pine nut mushrooms were excellent too. Ive seen recipes for crab stuffed mushrooms which look fantastic . Must make those. Also try mushrooms stuffed with a mexican style mince beef or spanish rice with chorizo.