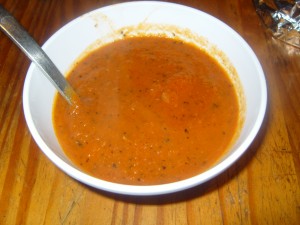 I have my friend Annamarie to thank for this recipe. By accident she discovered that soup made with sweet orange vegetables such as sweet potato, squash or pumpkin can be disguised to get kids to eat it without complaint. Now I dunno about you but I dont know any kids who will happily eat any of those veg much less in soup form. The secret ingredient is a couple of cans of tomatos added to the soup. Thats it . It then tastes like canned tomato soup all sweet and yummy and all kids eat seem to like that.  Mine now actually request that I make it once a week or so.
You can then use leftover soup as a pasta sauce or a chili base.This is a great simple and fast recipe. Thanks Annamarie!.
We roast the pumpkin first as it gives a better depth of flavour but you dont have to. This is a rough recipe, its very much adjust to personal taste.
Pumpkin Soup
about 6 cups pumpkin
few Tb olive oil

3 med onions
2-4 cloves garlic
2 pts stock, vegetable or chicken

salt and pepper to taste
2cans or more of tomatos
(I also threw in a few carrots for extra veggieness but thats not required.)

Peel and roughly chop  pumpkin. Place in a roasting tray and drizzle with olive oil. Roast at 200 deg for about 40 mins untill nicely brown and soft.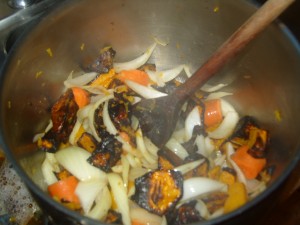 Chop the onions and garlic  roughly and fry in some olive oil until soft.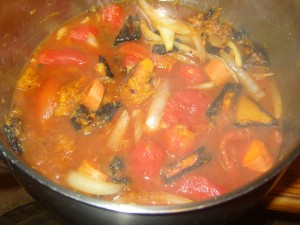 Add all the rest of the ingredients and cook for about 10 minson a medium heat  then whizz up with a hand blender. check  the seasoning and if you need more tomato or a bit more liquid.
Serve with a nice crusty bread or savory scones. You can drizzle a bit of cream on it and sprinkle some grated cheese. Yumm!