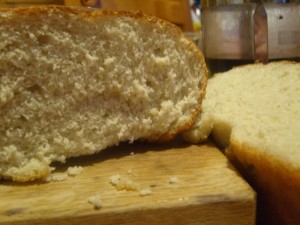 Last week I gave a  quick ,yeast ,breadmaking demonstration to my ICA guild . Since we had the recipe all typed up nice for that I figure its time to finally do thepromised post for easy breadmaking.
We seldom buy bread anymore as it takes such little time to whip up a batch of dough. We use the same basic dough with slight variations for most of  our breads. I know there are bakers throwing up their hands in shock at that blasphemy but really- yeast dough is very forgiving . I figure Life is too short for exact weighing of yeast and other additives. Lash it in .
Bread
Basic recipe
3 Cups flour
1 heaped Tablespoon yeast
1 Tablespoon salt
1 Tablespoon sugar
2 Cups water
More flour to knead.(approx 2 cups)
Method
Step 1.add 2cups of flour, the yeast, sugar and salt to a large bowl and combine.
Step 2. add the 2cups of water to the mixture and combine to form a spongy dough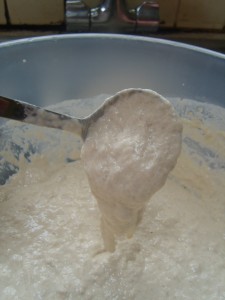 Step 3. Leave the dough to sit until it doubles in size then add enough flour to make a dough that is stiff and knead it until it bounces back when poked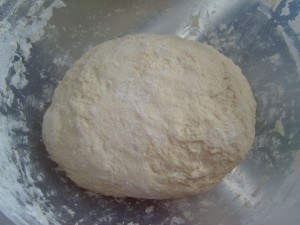 Step 5. Grease a baking tray or bread pan and place the kneaded dough into it and leave for a bit to double.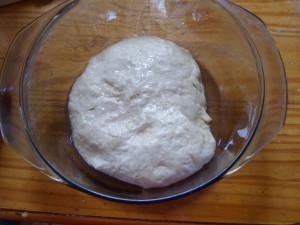 Step 6. place dough into a pre-heated oven at approximately 200 degrees C for 20-25 minutes depending on bread size. cook pizzzas  etc for less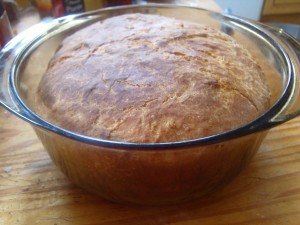 Optional extras to add to dough
seeds, bran, porridge oats, other flours, herbs, cooked grains, dried fruit, fruit puree
Pizza
Stretch the dough thinly over a greased baking tray and pour tomato sauce and toppings of your choice over dough, before it is cooked.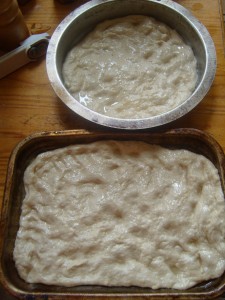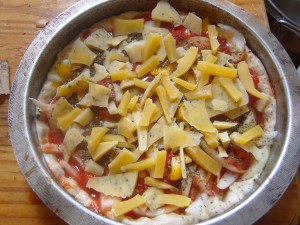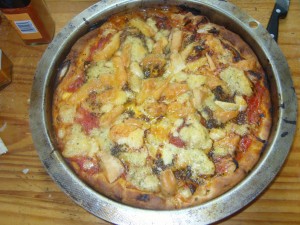 Calzone
roll dough into a thin circle, pour a pasta sauce onto one half and fold over. Crimp to seal edge.
Foccacio
Stretch dough thinly over a greased baking tray, dimple the dough with your fingers, drizzle with olive oil and sprinkle with coarse salt and rosemary before cooking. Foccacio may also be made with sundried tomatoes, olives  and fresh herbs etc.
Onion board
For onion board, stretch dough thinly over a greased baking tray, cover with thinly sliced onions and sprinkle with paprika and coarse salt before cooking.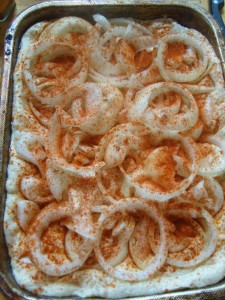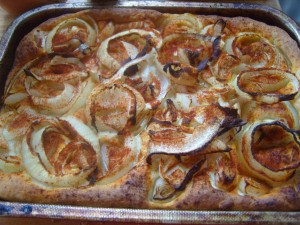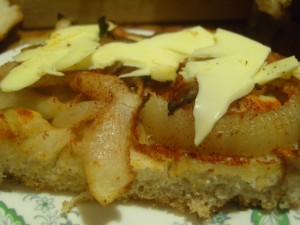 Flat breads
divide the dough into golf ball sized portions. Stretch each one into a thin oblong. Grill or bake for a few minutes until cooked.
Tomato bread
replace water with a can of cooked tomatoes or add herbs as well.
pumpkin bread
replace water with an equal amount of cooked pureed pumpkin or squash. Add cinnamon and nutmeg as well
Cinnamon roll
Enrich the dough using oil/butter/margarine(a few T), 1-2eggs and milk instead of water. Roll out dough and coat with brown sugar and cinnamon mixed together. Roll dough into a sausage shape very carefully. Slice in to pieces 1 inch thick and place on greased baking tray to cook.