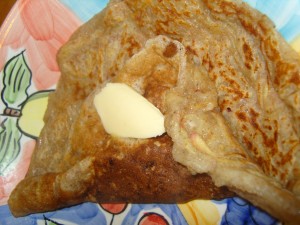 Back when I was a teenager, I had to spend 2 days running a tradestand for Dad at an Udaras na Gailteacht trade fair in Connemara. Eyeball numbingly boring- handing out bumph on the company to disinterested passersby. The redeeming feature of the whole experience was the lady next to us cooking boxty samples. I don't know what her company was called but these boxty were fantastic and me and the sister gorged on them all weekend.
I've tried for years to recreate them with  varying mixes of cooked and grated potato -all in vain. Then last year I picked up a  copy of " Irish Food and Cooking " by Bidddy White Lennon and Georgina Campbell and they had a boxty recipe using only blended raw potato. I figured it was worth a go and OMG it was so worth it. The recipe is so simple and it tastes like real Connemara boxty. The potatos don't blend completely smooth so there is still a bit of texture but they cook very quickly. Excellent for both breakfast and dinner and still yummy when cold slathered in sweet chili sauce as a lunch or midnight snack. I guess they'd freeze pretty well too when cooked' layered with greaseproofpapare.
Boxty
(amount is for 4 pancakes so we multiply up the recipe by loads.)
450 g potato peeled and chopped ( or if the skin is decent leave it on)
50 -75g flour approx

150ml milk approx

salt to taste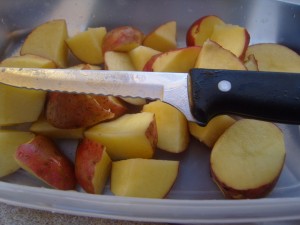 Whizz the potatos, until as smooth as you can get them, in a food processor or blender.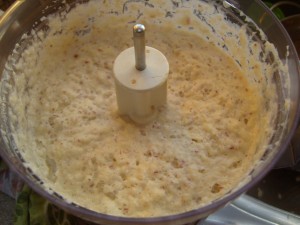 Add the flour and enough milk to get a thin dropping consistency then add salt to taste ( we add about 1/2 teaspoon)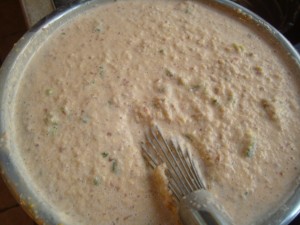 Butter a frying pan, crepe pan or griddle and pour about a quater of the mix on the pan if the consistency is right it'll cover the pan.It takes about 5 mins in each side on a medium heat. Serve slathered in butter or with the filling of your choice- e.g. bacon and cabbage, smoked salmon and cream cheese or creme fraiche and raspberry jam.
Optional extras
I also added fresh parsley and  a bit of leek to the mix when whizzing.Very Yummy- like champ in a pancake form .
I'd also try it with loads of cracked pepper in the mix  and maybe some parmesan. Oohh!