I've decided to try and find time to write a weekly post about what Ive picked up each week at the market. Whats in season, whats a new product, something I was given or bartered for or something thats just plain scrummy.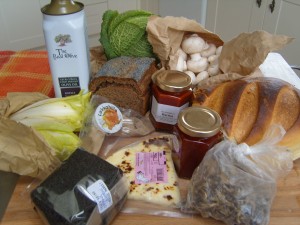 This is this weeks haul.
Katrina, from Little Red Hen, is just back from Finland where she spent the last two weeks skiing with her family. She brought me back the triangle of Juustoleipa (bread cheese) neatly packaged with a tub of cloudberrry jam. I'll fry it up in a bit of butter tomorrow for my breakfast when everyone's gone to school( Greedy Me). She also brought me back the dried wild mushrooms which will be turned into a  fabulous creamy pasta sauce later in the week.
I picked up my bag of Lapsang Souchon from" Teas and Grind". Brona and Silas do a  great range of teas and coffees and I really cant live comfortably without my stash of Lapsang.
I got  a bottle of Kalamata Olive oil and a jar of Harissa from Clare at The Real Olive Co.
I like the Kalamata because its so fragrant and green and I'll be pairing that with some of the wild garlic we've got in moms garden to make a pesto.The Harissa is fantastic mixed with cubes of fried potato and some yougurt sort of Patatas Bravas.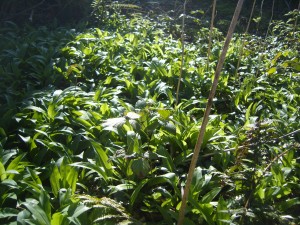 This week I picked up a crusty loaf from the ABC bread company for toast and I also picked up an organic rye loaf from Vi at The Sunflower Bakery. The rye will be my breakfast for the week-slathered in raspberry jam.Its so yummy , will hold all week and one slice is enough for breakfast.
Nicole from the Mushroom Company traded me the fresh mushrooms for a cup of hot mulled apple juice. Thal'll be turned into Cheesey,Creamy Garlic Mushrooms on the ABC  bread toast for  a lunch this week.
The cabbage and Chicons can from Organic Steve who runs Meelick Bay Nursery in Clare.
The chicons wil be dipped in a hot anchovy butter and eaten  with our fingers  as a light supper/ snack.I think that anchovy butter recipe came from Nigella but its so simple and yunmmy.  Just cook up some tinned anchovies in a bit of butter till they disintegrate then dip the individual chicon leaves.I love when the chicons come into season just for this recipe.
The cabbage will be mixed with grated carrot and some thinly sliced leeks and mixed with a  crepe style batter to made Japanese pizzas (okonomiyake). which we will have with Katrinas Red Pepper and Chili relish.This relish really is fantastic all sweet and hot and smokey as she uses smoked paprika in it. We'd run out as we eat so much of it so I traded a jar of raspberry for one. I love bartering.