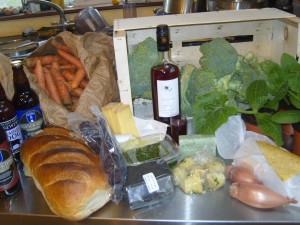 Very belated post this week but we've been busy as it's now planting season.
This week we picked up about 5 kilos of carrots , a bunch  of broccoli heads and a few banana shallots from Steve's Organic veg stall. The carrots were turned into innumerable carrot sticks and a very tasty carrot harissa salad (carrot, harissa, fresh coriander, olive oil, lemon juice.)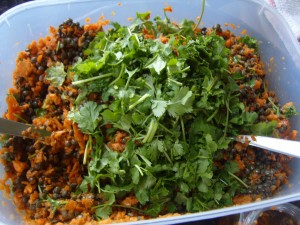 The broccoli was turned into a gorgeous broccoli, leek and cheese soup using Comte cheese from Maris cheese shop and served with crusty white bread from the ABC Bread Company. Normally we'd have our own sprouting broccoli but the big freeze seems to have killed ours and everyon elses.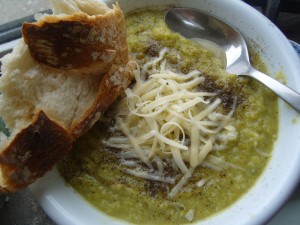 The Rose bottle is actually full of marmalade wine made  by my friend Nancy usingw rose and  the marmalade oranges I got her in January. Tastes like concentrated sangria. Roll on the summer!
I picked up a few bags of Dulse from Olivier from "On The Wild Side". Being half Northern Irish I love to eat it straight from the packet( as it's eaten up there -a bit of an acquired taste) but we also use it when cooking lentils and other pulses to remove their flatulent effect (just add a 2" square as you boil the pulses).
Artichokes and fresh pesto came from the Real Olive Co. for lunches this week.
I love the basil soap from Jasmine at Sunvale soaps. It smells so fresh and delicious.
I picked up a couple of courgette/zucchini plants as mine are only being planted now. This will give me courgettes a month earlier. They can go into the tunnel this week.
We picked up a piece of Petes Chili cheese. Pete produces Kilshany Cheese, a gouda type. We love this and all our family celebration feasts feature a full wheel of Pete's cheese.
And there's my Lapsang Souchong in the foreground. I ran out on Friday morning so it was an unhappy Saturday breakfast.
The beer was only picked up on the way home from the market I felt they were worth a mention. We picked up a selection that included the Dungarvan Brewing Company's Helvic Gold which is the finest beer I have had in along time. Fantastically robust and complex. Great to see Irish micro-breweries producing such superior products.