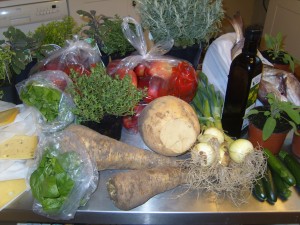 I was sooo happy with my shopping this week. Tobias at Noinin herbs  had fresh basil and new season courgettes for sale-summer is here.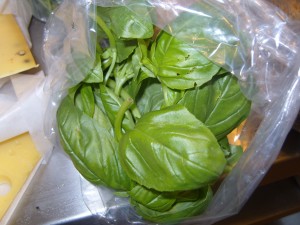 I also picked up some of his fabulous coriander- thats been in carrot salads all week and his new season onions.
This week is "Eat only Irish for a week". week and so I tried to make an extra effort to design our weeks menus around Irish produce. Which was kind of hard – the origional menu leaned heavily towards potato as the carbohydrate.
The O Driscoll boys sold me 4 huge haddock and threw in a bag of fish heads and bones. This made saturdays fried haddock dinner for 6 and then two days of fish soup for 7 . Not bad at all for a tenner.
We picked up three different types of Petes cheese including a new one he made using Bellishes onion relish -excellent stuff.
For our salads this week we picked up another bottle of the irish rapeseed oil at Country Choice .It really  is excellent.
When I went to pick up my veg from Organic Steve all I could get were parsnips and turnip as almost everything else was non irish (except for salads which I have already in the tunnel).He says its the end of the season and impossible to source irish organic carrots or beets.When I went to get irish carrots in the supermarket nobody had irish so i bought non organic scottish but they were yuk- very watery.
Lots of lovely Irish apples from Adam the appleman kept up in fruit snacks all week.
I bougt a pile of herb plants too this week as we are dealing with herbs this week in my organic gardening class . I can never have enough thyme and my cotton lavender succumbed to the frost tlast winter.I also love the tri-color sage . Its so pretty even if its flavour isn't as strong as that of regular sage.