I was teaching a workshop here today on "Foraging and Preserving the Autumn Fruits" so I yanked out all of my preserving books for the students to read.  I started leafing through the R iver Cottage preserving book and found a recipe for nasturtium pesto which I'd always overlooked before but since my front porch is overrun with nasturtium I figured I'd give it a try.
Love it . Its very similar to wild garlic pesto with the strong green flavour and sharpness and look at the fabulous colour. The kids loved it too and have just hogged down half of the bowl on their bread and in the french onion soup we had for dinner. I tweaked the recipe a bit from the River Cottage recipe to fit what I had in the house.
I'm so glad I tried this as I've always more nasturtiums than I know what to do with . I dont really like the leaves in salad and I forget to put the blossoms in salad. I have a few wee nastutium plants in pots that didnt make it into the garden this year so Ive now got them in the greenhouse to make this all through the winter.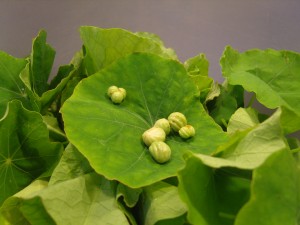 Nasturtium Pesto.
Five good handfuls of Nasturtium leaves- I used small and medium leaves  for a more delicate flavour.

a dozen  fresh nasturtium seeds
3 oz of parmesan or whatever stong cheese you have -I used an aged gouda
2 Tablespoons Pine nuts
3 big cloves of garlic

about 100ml of Rapeseed oil ( or you can use  an olive oil)
1/2 teaspoon of salt or to taste.
Bung all of this into the food processor and whiz for about a minute and Voila- Fantasic garden pesto.
Im so happy -Im going to make loads of it tomorrow  before the frost cuts all the plants down and put it in the fridge covered in rapeseed oil where it should keep for about 4 weeks.
So go out and get some nasturtium from your or somebody elses garden and try it  -you wont be dissapointed.