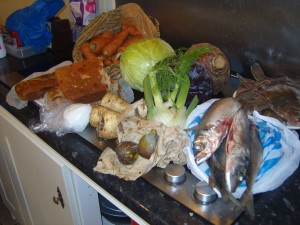 After a long summer break I've finally restarted my menu planning each week and thus my posts on my market haul each week. We've pretty much been living from our garden for the summer and haven't needed  any additional market food but since its the end of the season and I've cleared my tunnel of tomato plants and the marrows its time to start supplementing .
We picked up some Horse Makerel from Ballycotton Fishmongers.I'd never heard of them before but was assured you cook them the same as makerel they just taste a bit stronger. Alex baked them whole with a  Crunchy Mustard and Lemon Butter. Very yum but, and its a big but, they were very bony and had armored scales all down their sides- I'llask for them skinned and filleted next time.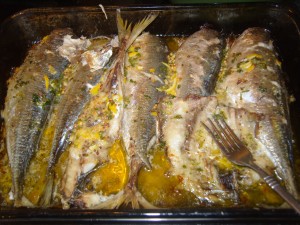 I also picked up some plaice  from the O Driscoll boys.We had those baked in a parsley butter then cooked up the heads and bones for a fish stock which became a really good chowder with the addition of some carrots,corn and marrow (don't tell the kids but Ive been hiding marrow in everything) and two kippers out of the freezer.
The  Florence fennel,some of the white cabbage and carrots  from Steve the Organic man became a  very tasty salad with some beetroot and oranges to accompany the makerel.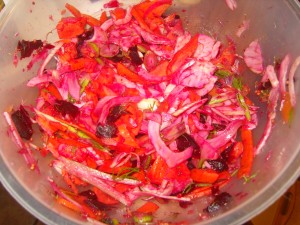 ,The cabages were cooked with butter and seasoned -fantastic. The swede and parsnips will give and excellent base for this weekends stew. Joy of joys Steve had some fresh figs I bought six and as you can see had only 2 left for the pictures – I love them so much. Maybe next week Ill buy enough to  actually have enough left to make a vanilla fig tart.
The ABC bread company were the source of the cherry cake. Just like mammy used to make,soooo good.
The mozarella from the  Real Olive Co will go nicely with the end of my cherry tomato crop with a drizzle of basil oil.
Good haul this week.