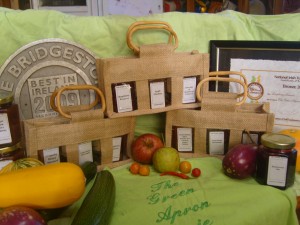 I finally remembered to bring my camera in with me to the market last weekend and took a quick run around to get some pictures of what I buy as presents for my family and friends so this post will be heavy on pictures and light on  words.
For Food Gifts I often  make up a wee hamper of non perishables.
Applejuice from Adam of Killowen Orchard which we give with our "Spices for mulled wine" -spices work for applejuice as well.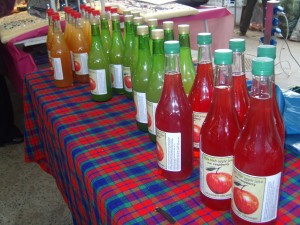 Chocolates from Chocolate Trish at Wildes Irish Chocolate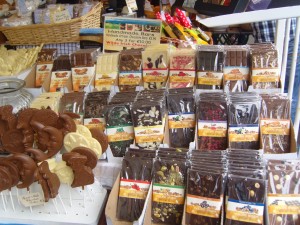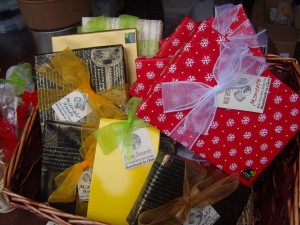 Chorizo from Olivier  -"On The Wild Side"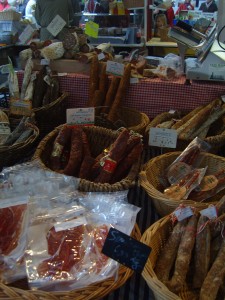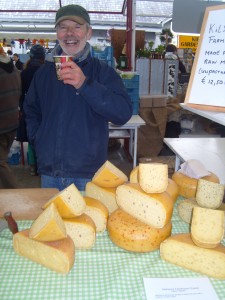 Whole small cheeses from Pete of " Kilshanny Cheese" .Every April we get him to put away a big Plain cheese  in his cheese house for us . By Christmas its fantastic- almost fudgey textured and sharp on the palate. A whole  cheese doesn't last long in our house.
And of course Amazing preserves from Us at The Green Apron. I usually give  our Christmas Chutneys and Mustards. Partridge in a Pear Tree Chutney, Apple and Walnut Chutney,Sugar Plum fairy Chutney and our Crunchy Honey Mustard.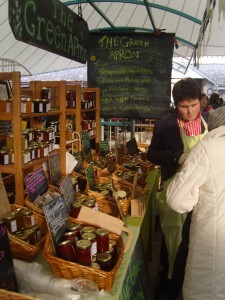 Katrina also has the cutest Finnish Gingerbread Cookies in all shapes and sizes (also a whole range of Gluten free baking)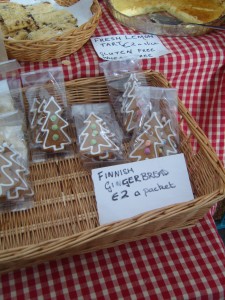 Aruns puddings from  Green Saffron look  fantastic  don't they.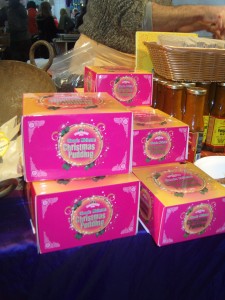 Locally roasted award-winning Coffee is available from Ponaire s Coffee house and teas are available from "Teas and Grind" and "Tea4You"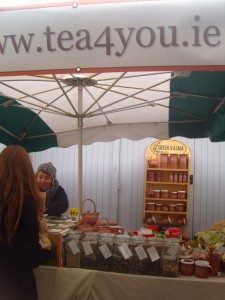 Why not pop in a bag of Irish Harvested Seaweed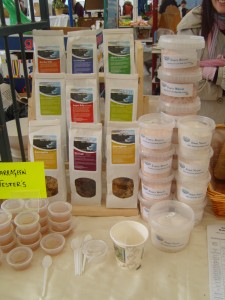 For Immediate Gratification Gifts Brid has delicious awardwinning pies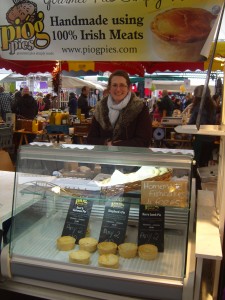 Vi makes the yummiest sourdough  Rye Bread and a range of organic cakes and breads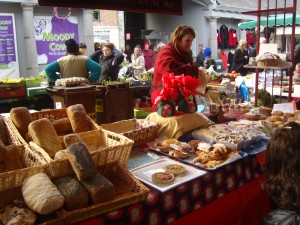 You can pick up a variety of cheeses from Mairis Cheese shop ,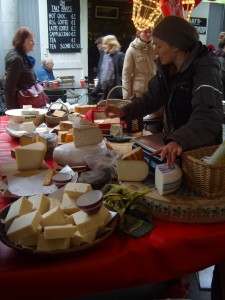 Pates, preserved fish, and terrines from Olivier, wines from Country Choice (along with about anything else you can think of.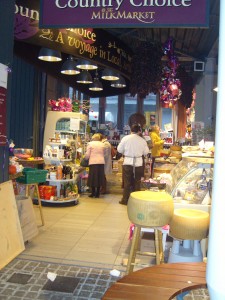 There are lots of craftspeople selling their pieces  in the market. Local and Handmade Crafts
Here is some of Ruth at Nice Day Designs  fabulous  pieces.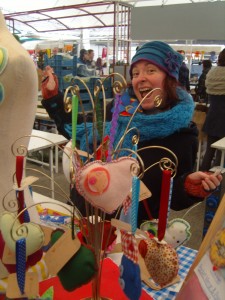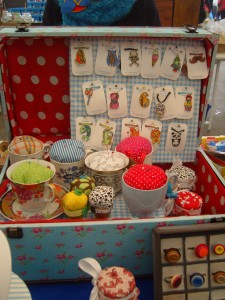 Aileen with her beautiful jewellry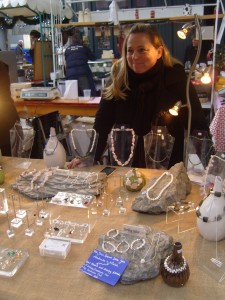 Susan 's  Nativity scene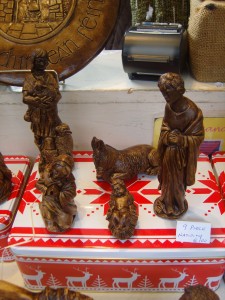 and her Crazy camel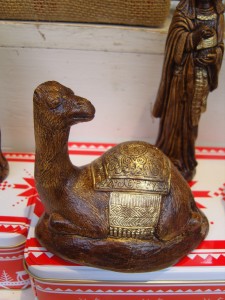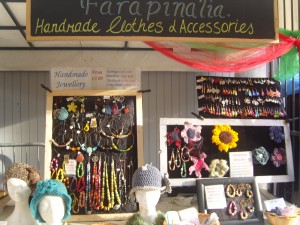 Handmade hats to keep you warm and stylish this winter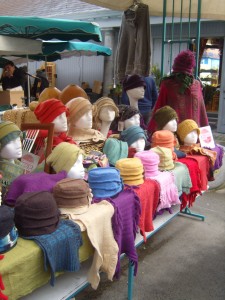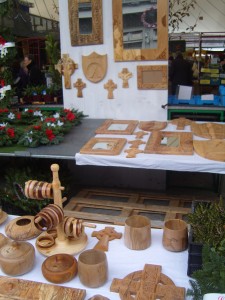 Handcarved wooden pieces
For Body and Bath Gifts
Tobias from Nonin Herbal has a  range of essential oils and a fantastic Rose Avocado Cream for problem skin It smells divine and works brilliantly -I bough some for mom for her birthday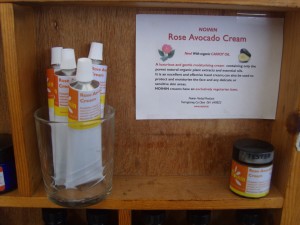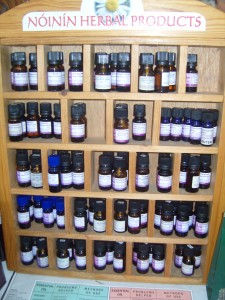 Jasmine from Sunvale Soaps has a  great range of homemade and french soaps, salves and creams.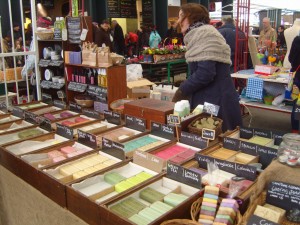 Last year I gave the sisters  each a chicklit book, a bar of Wildes Chocolate and Bath Melts from Sunvale . Ingredients for a  perfect evening.
There are plenty of Plants here for a lovely living present and lots of spring bulbs (get them in fast though)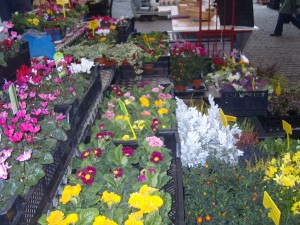 Heres some of the other fabulous things available at the market Couldnt take enough pictures and get everything in .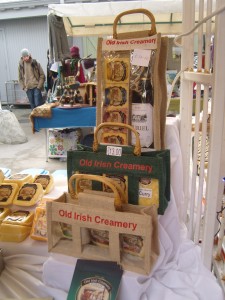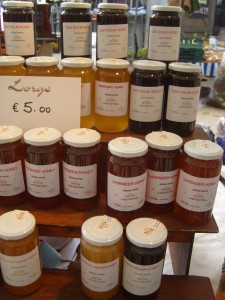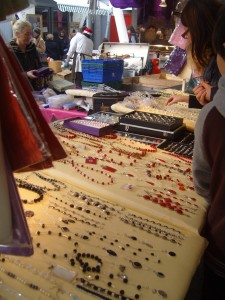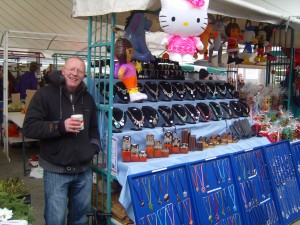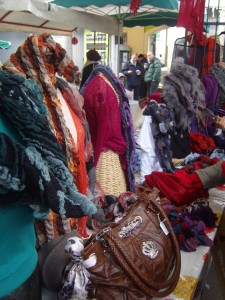 Now you can see why almost all my presents come from the Market.
Oops – One last thing . I bought these for everyone last year and am wearing a pair now-invaluable