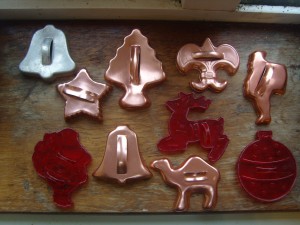 Christmas is the time of year cookies really come in to their own at our house  especially since I inherited such a great range of  christmas cookies cutters from my Grandma. My girls  are happy to spend hours rolling baking and decorating cookies  and peace reigns.
Aoife Ryan from Babaduck came up with this recipe and kindly sent it on to me as part of the Irish Food Bloggers christmas recipe exchange. Yummy crispy,spicy, honey flavoured cookies.
Athene and Belle spent all evening producing these lovelies.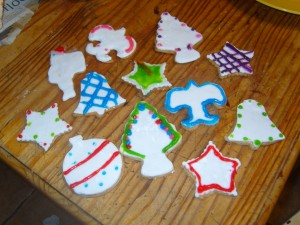 Spiced Christmas Cookies
50g Butter
100g Golden Caster Sugar or brown sugar
100g Runny Honey
225g Plain Flour
1/2 tsp Baking Powder
1/2 tsp Bicarbonate of Soda
1 tsp Ground Ginger (double this for a spicier cookie)
1 tsp Ground Cinnamon (or 2 tsp Allspice if that's all you have)
1/2 of a beaten egg
In a pot, heat the butter, sugar & honey together, stirring until melted & smooth.  Remove from the heat.
Put all the dry ingredients into a bowl, add the melted butter, honey & sugar & mix for a minute with a wooden spoon .
Add in the half egg  and mix  until the mixture has turned into a smooth & shiny dough. If you have a good mixer use that instead of the spoon as mixing the dough is  hard work.

Wrap the cookie dough in clingfilm & chill in the fridge for at least a few hours until cold.

When you're ready to use the dough, heat your oven to 160c  and line two large cookie sheets with baking parchment.
On a floured surface, roll out the dough until it's about 1/4 inch thick and cut out shapes with your cookie cutters.  (Flour it well as its awfully sticky)

Place the shapes on the sheets & bake for 8-10 minutes until golden.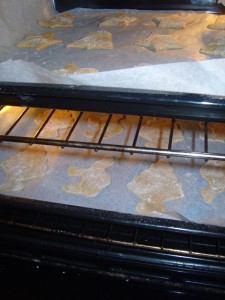 Remove from  the tray and allow to cool completely before icing.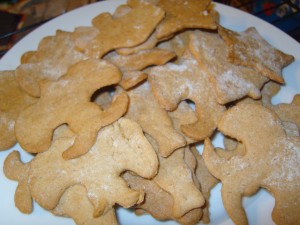 My girls used premade fondant icing on these and some of their stash of American gel icings which  our friend Emer (and her american in-laws )keep us supplied with. Icing makes the cookies a bit softer but still yum  and we used a bit of warm jelly to stick the fondant cutouts to the cookies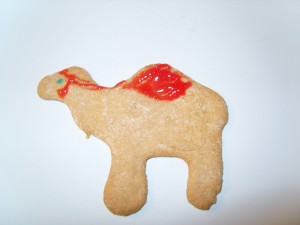 If you are very lazy like me mould the dough into sausages before chilling and when cold slice rounds of cookie dough instead of  bothering rolling the dough out  and bake as above.
Aoife says they'll keep for about a month un-iced in an airtight tin -if you can resist them that long. We made a double batch and they are almost all gone already.